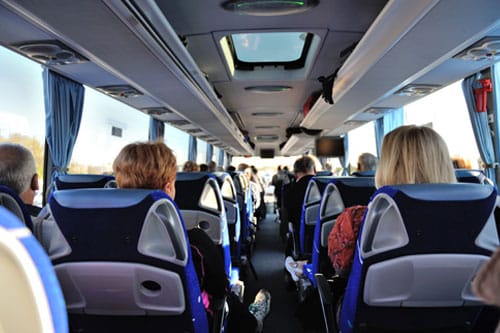 Traveling to a brand new location can be a very stressful experience. But, as the pandemic restrictions begin to loosen up, more and more people are taking the opportunity to do so.
Currently, the TSA can have over two million people going through airports every day.
If you and your party are some of those people, you may wonder how you can make your experience more pleasant? Well, you should consider using charter bus services to put your mind at ease.
What Are Charter Bus Services?
Charter bus services are private companies that will organize a small bus to take you and your party wherever you need to go. Most of the time, these buses will pick your group up at the airport in a major city but that location can be flexible in some cases.
How Does It Work?
The first thing you have to do is tell the service the date and time that you need them to pick your group up. Then, you will have to tell the service where you need to be picked up and where you want the bus to take your party.
Also, you will have to tell the company how many people are in your group. At that point, you can select a type of bus from the fleet available that you think is the best fit for your group and the price that you are willing to pay.
Convenience
When asking yourself, what charter bus services are near me, you may wonder what they can offer that you cannot get anywhere else? Well, the answer is a convenience that a regular car from your friend or a rideshare app cannot give you.
If you take a local taxi or have a friend pick you up, you are not going to be able to travel together and your party may get separated. Then, you might be stuck waiting for everybody else or having to guide them.
With a rideshare app, it is still possible the same thing can happen with a smaller party but even if it does not, you still have to arrange transportation on the fly.
That option is also not as guaranteed as it used to be, considering there are about 40% fewer drivers in 2021 compared to past years.
So, with a charter bus service, you will have organized transportation booked in advance and the security that a vehicle will be there waiting for you when you arrive.
Professionalism
If you are traveling for business purposes, a charter can give you a more professional look. Using it shows that you are organized and have a plan with good structure.
Plus, with smaller groups, you can maintain a better image with the vehicle that is driving you around, rather than a yellow taxi or a personal car that somebody is driving you in.
Plan Your Trip
With all of this in mind, you should have a good idea of what you need to do for your next group trip. Are you ready to use bus charter services?
Request a quote for bus charter service in Phoenix, Dallas, Charleston, Vancouver, and more.