Shuttle Services
ECS Transportation Group provide first-class limo and shuttle services, including planning scheduled routes and special event logistics.  Whether booking airport shuttles for a conference or renting a shuttle bus for an extra-special private gathering, our clients appreciate our attention to quality and value in our fleet.  Our sprinter vans, mini-buses, coach buses, outstanding chauffeurs, dispatchers, and customer care representatives are on the ready 24/7.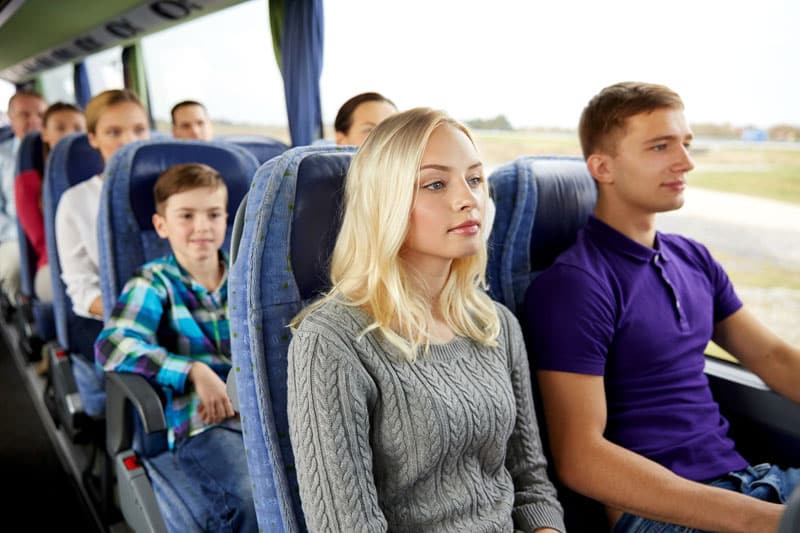 Shuttle Bus Rental Benefits
Whatever the occasion, the ECS shuttle service ensures that our passengers don't have to fend for themselves.  Neither do business staff or organizers need to spend time dealing with all the details of managing transportation.  Our expert and knowledgeable staff will take care of all the route planning and scheduling for you, accommodating any number of passengers.  The more people traveling together the more economical shuttle bus services become.  ECS provides complete logistics management, including route and schedule updating.  Our Dispatchers deal with construction and other traffic diversions, saving everyone time and frustration.  Larger corporations can accommodate transportation abatement requirements while keeping employees happier and avoiding the costs of hundreds of parking spaces.
Routine Routes and Event Transportation
Always attentive to your needs, our experts can plan out complete transportation solutions combining numerous vehicles.  Here are just some of the most popular of our shuttle bus services.
Regular routes

As employee commute perks, shuttle bus service provides a huge boost for recruitment, retention, and productivity.
Corporate inter-campus shuttle routes and mass transit connections are another way to provide sought-after convenience while reducing parking needs.
Senior living facility shuttles are a necessary service, supporting shopping and health care transportation needs.

Special event transportation

Conventions, conferences, and trade shows can increase attendance with regular venue / hotel / airport shuttle bus routes.
Any corporate, private, or public event with a remote location can economize on group transportation with shuttle services.  Events often calling for shuttle bus rentals include festivals, concerts, sporting events, tours, ski trips, and weddings. Senior living facilities can provide transport for outings without having to manage transportation details themselves.

Airport shuttles can reduce costs for large campuses and major events. Airport shuttle bookings eliminate the worries, stress, and delays of traffic and parking with dependable transportation.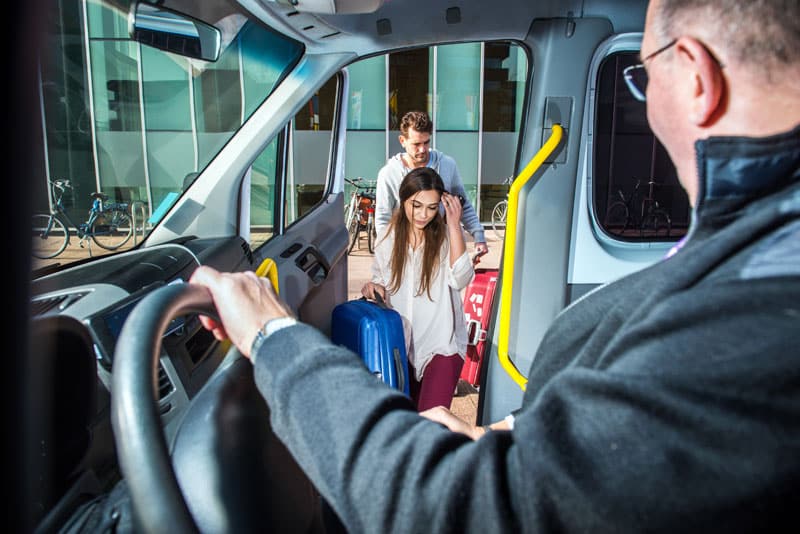 Vehicles and Chauffeurs
With our fleet of sprinter vans, mini buses and coach buses we can match any size need for group shuttle services with stylish and comfortable late model vehicles.  Our shuttle services and charter fleet includes
SUVs for up to 6 passengers,
Sprinter vans accommodating 13 passengers,
shuttle buses with 28, 35, and 39 passenger capacities, and
full size 56-seat motor coaches.
All have extra-comfort features, a bit of luxury, and modern amenities such as large flat-screen TV.  Each is kept immaculately clean and fully up to date on mechanical maintenance and safety inspections.
Group shuttle services aren't complete without outstanding chauffeurs.  Beyond license classification and background checks we carefully select each of our chauffeurs based on skill, experience, and professionalism.  Each chauffeur is friendly, courteous, and respectful.  They are thoroughly familiarized with the planned route.  Working closely with our Dispatchers they keep your transportation right on schedule.
Worldwide Transportation Services
If your city is not listed above, please contact ECS at 1-800-743-3151