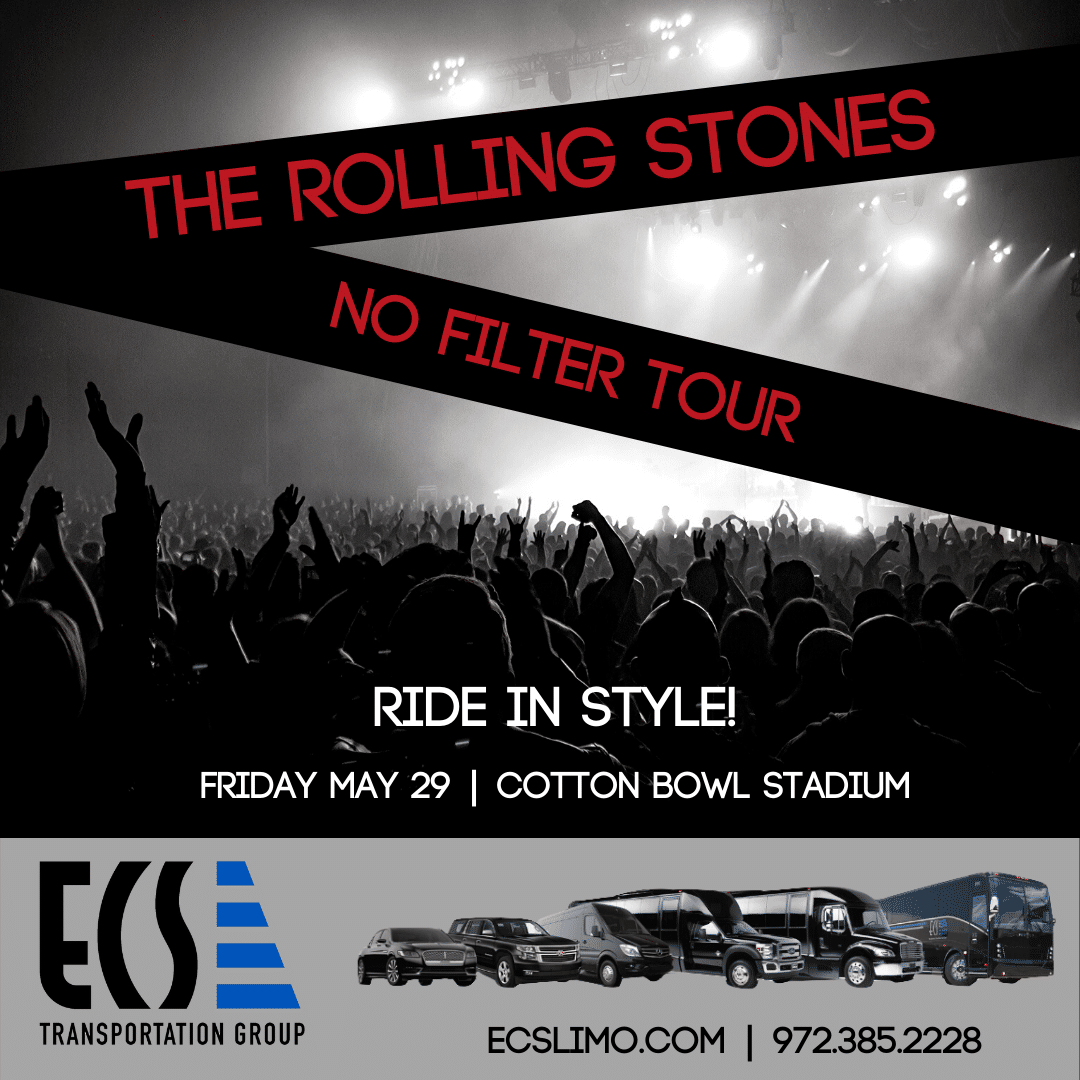 Looking forward to the Rolling Stones concert this May 29 at Dallas' Cotton Bowl Stadium? Arrive in style with our door-to-door transportation services.  There are no parking delays, no traffic hassles, no designated driver, no wasted time.  Your celebrity drop-off will be right on time, no worries.
You'll make the most of the evening with VIP treatment in a concert limo with dark windows and full amenities.  Or enjoy every minute with friends on a bus, traveling in style and comfort.  Either way, make the travel to and from as unforgettable experience as the No Filter Tour concert itself.  It's possibly the last-ever chance to see the Stones.
From a party pick up to back home you'll have an uninterrupted blast.  How about a tailgate party or night on the town afterward?  Book early and we'll have a vehicle to match.
Choose Your Style, Choose Your Vehicle
Our fleet of top-quality vehicles is ready for everything from couples to groups of 30 or more.  How about a luxury sedan or SUV for an intimate evening? An executive Sprinter with leather reclining seats for you and 9 guests?  Or travel together with the whole gang in one of our exceptional minibusses.  Ranging in size from 27 to 39 passengers they feature super-comfortable seating and dark windows for privacy and class.  And they're equipped LCD TV, DVD players, iPod and MP3 hook-ups, and a built-in cooler.  All in immaculate condition to make your Rolling Stones concert experience perfect.
You'll also appreciate our truly professional chauffeurs and drivers making the evening a safe, discreet, private event.  Highly skilled and experienced in Cotton Bowl transportation services, they'll anticipate traffic and other issues to give you a smooth right-on-schedule ride.
So, choose ECS Transportation Group.  In addition to concert limousine services for music events, we're a full-service company with scheduling and dispatch specialists and a broad range of 24-hour services.  That includes airport and hotel services for out-of-towners.
Did You Know?
The Cotton Bowl Stadium first opened in 1930 on the site of the State Fair of Texas.
The May 29, 2020 concert is the Dallas stop on the third leg of the worldwide Rolling Stones No Filter Tour.  It all ends in Atlanta this July.