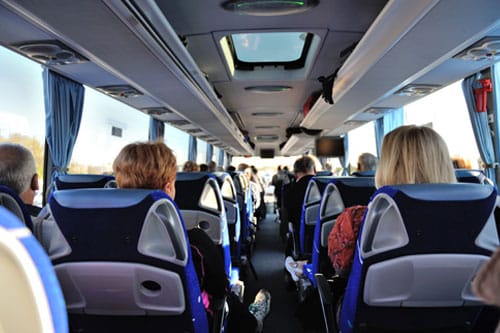 Are you looking for group transportation services to hire? Whether you need group transportation for corporate meetings and conventions, a solution for wedding guests, or a way to and from another event, it's important to get the right vehicle.
Do you know how to find a transport group and what to look for when it comes to car and charter bus services? Here are a few tips to put you on the right path.
Choose the Right Company
The first step is to choose the right company that offers group transportation services. Look at their website, learn about their fleet, and read some customer reviews and testimonials.
Reviews will give you a better idea of what the company offers, how others use their services, and find answers to questions you might have. If you can't find an answer in the reviews, send a message to the company. They should be happy to answer any questions you have or offer you a quote.
Look at the Fleet
Take a look at their fleet to get an idea of the different vehicles they offer. Each vehicle lists the number of passengers in the description, so you can figure out which type of vehicles you'll need.
For instance, our executive sedan has a max passenger limit of three passengers. Consider how many people you'll need to transport and how many bags they'll have. You don't want to wind up with more luggage than will fit in the car, so plan ahead.
Look at pictures of the vehicle online or in-person if possible. Inspecting the vehicle allows you to calculate how big it is inside and how comfortable it will be.
Determine the Number of Passengers
As we mentioned above, group transportation vehicles have a maximum passenger limit. Our luxury sports utility vehicles (SUVs) can fit six passengers with bags. Our luxury sprinter vans can accommodate 13 people with luggage.
If you're transporting a larger number of passengers, you should consider our mini bus or charter bus services. These options are ideal for larger groups looking to travel in comfort.
Since transport services rely on passenger information, it's important this head count is accurate. Depending on the event, you might want to cut down your guest list.
Choose Comfort and Convenience
Our fleet offers supreme comfort and additions such as leather seating and privacy-tinted windows. Our larger vehicles, such as our sprinter vans, offer built-in coolers, reclining seats, and more. We promise you'll ride in comfort no matter where you're going.
You want to consider your guests and how comfortable they'll be on the ride. Will there be enough room for everyone and their luggage? Do you want to offer beverages? How long is the journey?
If you're booking a group transportation service for a longer journey, you should consider a charter fleet. Our coach bus seats up to 56 passengers and offers outlets, onboard wi-fi, and a restroom.
Book Group Transportation Services Today
Now that you know more about what to look for, you can choose the right group transportation services for your event. Make sure you have an accurate head count and consider your guests' needs on the journey.
Let ECS Transportation Group be your transport group of choice. We promise reliable chauffeured transportation and a fleet sure to meet your needs.
Not sure what type of vehicle you need? Ask us and get a quote today.