Safe And Reliable Motorcoach Service
Charter Bus Rental Allen, Texas
With our private and corporate group transportation services there's no worries.  We do the driving and our charter bus rental staff coordinates everything.  In and around Allen, Texas you'll skip parking delays and annoyances, and our bus transportation's comforts and entertainment features are especially appreciated for longer trips.  With luxury vans, 28 to 39 passenger mini buses, and full-size motor coaches we can accommodate groups from a dozen to hundreds in true comfort.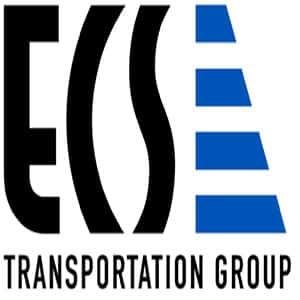 Call ECS Transportation Group
ECS bus charter team is dedicated to saving you time, money, and headaches while adding a bit of luxury.  Well known for attentive customer service, our expert staff will take care of planning and scheduling — from a simple field trip to an overnight tour… or complex airport and hotel shuttles for a major conference.  We stay on top of everything so that our charter bus rental service is bound to please and impress.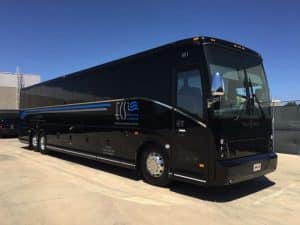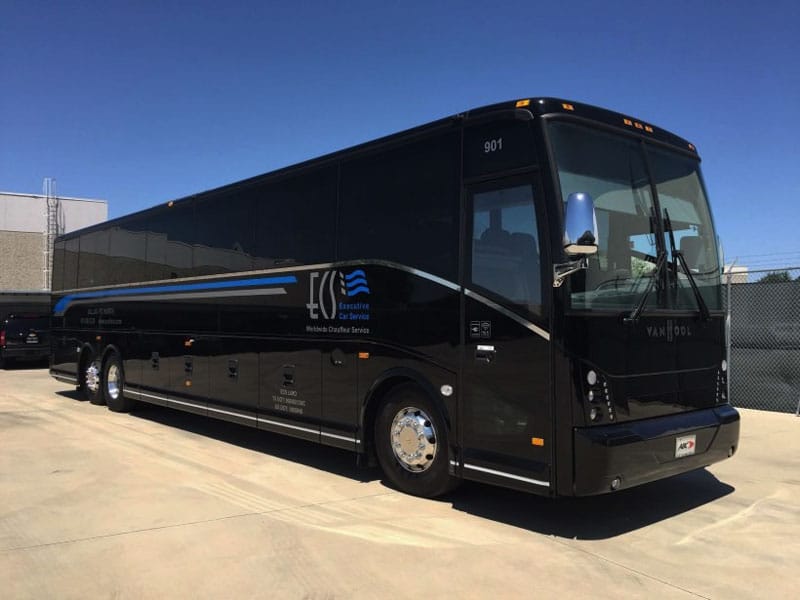 Allen, Texas Charter Bus Services
For our bus rentals we work closely with individuals, companies, travel agents, and destination management companies to assure the very best in group transportation.  Whether one-time bus service for a special occasion or ongoing scheduled bus charters we take care of the details and anticipate problems so that your travel goes smoothly and stays on schedule.
Airport Shuttles Businesses, clubs, and other organizations know they can rely on us to get them to the airport with time to spare, and be there ready and waiting on their return arrival.  Whether your group is traveling to and from a single destination or using multiple airlines for different destinations, our dispatchers and drivers know all the ins and outs of DFW International, Air Park, and Dallas Love field.
Church Groups We can do all the planing for church group travel — shuttles for weekly services, choir tours, interfaith meetings, and more.
Corporate Events Our transportation experts can make all the arrangements for conferences, conventions, trade show, employee appreciation events, and so on.  Then we'll actively manage the event to be sure that everything stays right on track.  We can also provide and manage regular commuter and inter-campus shuttles.
Out of Town Trips The many amenities of our charter buses make them great for longer trips, including overnight tours.
Schools and Universities Public as well as private schools and colleges use our managed transportation services for field trips and competitions in Allen, nearby locations, and distant Texas cities.
Sporting Events  Have a company or community sports team?  We'll get everyone where they need to go.  Our charter bus services also let groups skip traffic and parking snarls with front-gate drop off and pick up at big games… with pre-game video and a party or commensuration on the way home.
Special Events Guests truly appreciate having transportation taken care of for them, especially if they're from out of town.  Our charter buses are up to the occasion for weddings and receptions, special birthday and anniversary parties, Quinceaneras, bat and bar mitzvahs, and other special events.
Our Allen, Texas Group Transportation Fleet
ECS luxury late-model vehicles incorporate extra comfort features, wi-fi, video entertainment, and ample luggage space to make group travel a pleasure.
Our sprinter vans accommodate smaller groups of up to 13 passengers in style with leather reclining seats, big-screen TV monitors, a cooler and 6 feet of head room.
Next in size is our 28 passenger mini buses, also featuring large flat-screen TV monitors, dark tinted windows, and a built-in cooler.  Have a few more people in your group?  We also have mini buses that accommodate 35 and 39 passengers.
With our full-size motor coaches as many as 56 people can stay together in a single vehicle.  Special features include USB and electrical outlets at each seat and an on-board restroom.  Plus wood-grain flooring and reclining leather-trimmed seats for a touch of class.
Allen, Texas Group Transportation Fleet
Drivers and Staff
Everyone at ECS has been thoroughly vetted before hiring.  We select only the best drivers for our charter bus transportation — those with the winning combination of skill, experience, and a courteous disposition.  Our staff also includes experts in corporate and private transportation planning as well as outstanding dispatchers.  We aim for nothing less than exceptional travel experiences.
About Allen, Texas
Allen was first settled by US and European immigrants in the early 1840s.  Named after Ebenezer Allen, a politician and railroad promoter, the city was sustained by agricultural development made possible by the railroad.  When incorporated in 1953, Allen was still a small town.  It didn't see major growth until the completion of the DFW Airport.  If you're looking for something new to do, consider the Play Street Museum and the Allen Heritage Guild.  You can find more at https://www.facebook.com/places/Things-to-do-in-Allen-Texas/107896742565570/.